15 April, 2020
Technimount System Launches Protective Stretcher Screen for EMS Responders Against COVID-19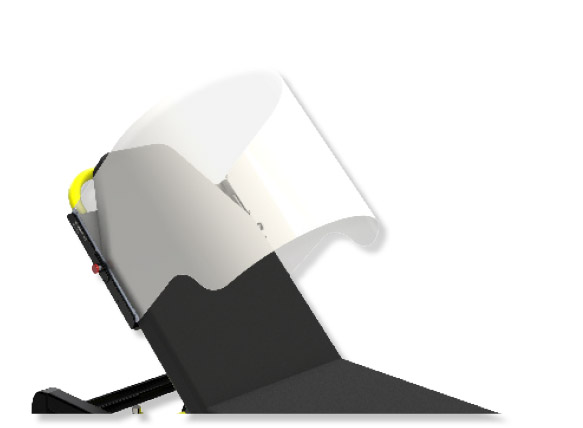 Quebec, QC, (April 15, 2020) – Technimount System (Technimount), manufacturer of versatile mounting solutions for portable medical devices, announced today the launch of the Techni-Shield Defender, a protective screen for stretchers developed to reduce the spread of contaminated Coronavirus (COVID-19) droplets in the air during patient transport.
The Techni-Shield Defender acts as an additional barrier between patients and emergency staff to better protect against and reduce the risk of exposure to potentially contaminated patients with COVID-19. The smooth screen is made from clear PETG FDA-approved grade plastic and impervious to biological cleaning products, including those with bleach and hydrogen-peroxide.
Its lightweight, anodized aluminum structure is resistant to corrosion. The Techni-Shield Defender's dual-ventilated design ensures proper air circulation so that additional oxygen consumption for the patient is not required, and can adapt to different patient sizes.
Designed for leading brands of stretchers in North America, its frame is small in size making it suitable for the ambulance environment or confined spaces. Its clip-on and clip-off design enables it to be installed or removed without requiring any specific tools, helping medical personnel deploy or release the system almost instantly.
"Paramedics and emergency responders are responsible for the first screenings and amongst those with the highest risk of potentially contracting the virus when transporting patients," explained Carl Bouchard, Founder and CEO of Technimount System. "The Techni-Shield Defender offers an additional protective measure to reduce their risk of exposure in the field".
"The safety of our healthcare heroes is at the heart of Technimount's mission," said Bouchard, "and the development of the Techni-Shield Defender with one of our partners, was our contribution to helping emergency responders in the fight against Coronavirus".
The Techni-Shield Defender was developed in collaboration with HTMC Medical, a partner company of Technimount System.
About Technimount Systems
Technimount System designs and develops mounting solutions that provide first responders and healthcare professionals with a complete system for portable medical device management during patient transport.
Technimount's unparalleled universal mounting system can fit multiple brands, models, and applications of portable medical equipment in ambulances, on stretchers and cots in hospitals, EMS, and military environments.
About HTMC Medical Inc.
HTMC Medical is Canada's leading design service provider of high technology medical components located in Quebec City (Quebec). HTMC Medical's turnkey services include design, development, and manufacturing. Partnering with innovative companies, they create breakthrough products for various medical specialties, in a broad range of applications.
—
Click here to read the French version