At Technimount Medical, we understand that healthcare professionals need products that make their everyday practice easier. We design and develop quality solutions which are flexible and easy to use, allowing you to concentrate on what matters most – patient care.
Technimount Medical follows the same path as Technimount System, to continuously innovate to make healthcare practices more efficient and safer. With the same mindset, Technimount Medical creates distinctive products that respond to the ever-evolving healthcare practices. Our Healthcare Essentials product lines enable caregivers to move efficiently and safely all the medical equipment, devices and drugs needed to successfully treat their patients.
IV Stands for infusion systems
The IV Stand – Healthcare Essentials product family is designed to mount medical volumetric or syringe pumps, pump carrier and fluid bags for use in a variety of clinic, hospital environments and critical care settings. Their highly stable, 6-leg steel weighted-base and aluminum pole structure safely support multiple medical devices.
All IV Stand – Healthcare Essentials models include the following standard features and benefits
6-leg carbon steel base with medical-grade white powder-coated paint for optimum durability
Low noise 3" Swivel Ball-Bearing Caster Wheels made of high-quality solid rubber and impact-resistant nylon for smooth gliding
Handle with integrated utility tray for patient belongings
Sanitizer holder
Standard drainage bag aluminum hook
Stainless steel hook top for increased durability and easy cleaning
Sturdy and stable structure to safely hold multiple IV bags, pumps and pump carriers
Low-center-of-gravity and balanced weight design for enhanced stability and easy movement
Optimized design for reduced packaging and shipping cost
Reinforced middle joint structure with deep sleeve stabilizer and four screws asymmetrically positioned for solidity and longer product lifetime
Slim design collar for smooth adjustment of top pole and elimination of possible interference with tubing
Made from high-density aluminum and steel with silver-anodized finish and medical-grade white powder-coated paint
Resistant to biological fluids and Quaternary-type disinfectants for easy cleaning
Compatible with Technimount Medical Pump Carrier
Discover the IV Stand – Healthcare Essentials models and their specific features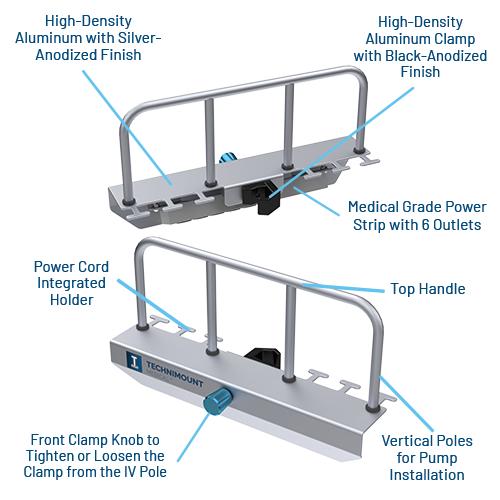 Pump Carrier
The Pump Carrier – 254 is a lightweight and durable solution used to mount up to four pumps in clinic and hospital environments. Its revolutionary Front Clamp Knob is easy to access and makes it faster and more efficient to secure or release the Pump Carrier from an IV Stand in only 8 turns.
The Pump Carrier – 254 model includes the following features and benefits:
Securely holds from 1 to 4 pumps
Built-in power cord holder to prevent potential tripping hazard during patient movement
Integrated medical-grade 6-outlet power strip with surge protection, compliant with all UL and CSA Standards
Innovative Front Clamp Knob easily secures or releases the clamp from the IV pole in only 8 turns
Durable structure made from high-density aluminum with silver, blue and black-anodized finish
Resistant to biological fluids and Quaternary-type disinfectants making it easy-to-clean and disinfect
Large top handle for easy transportation of up to three pumps
Designed to comply with IEC 60601-1 International Standard Third Edition
Compatible with all Technimount Medical IV Stands and accessories