Bracket Pro Serie® 35 – HD
Mounting System For Stryker  LIFEPAK 15 Monitor/Defibrillator
Technimount's Bracket Pro Serie® 35 – Heavy Duty (BP 35 HD) mounting system is designed to secure your LIFEPAK® 15 Monitor/Defibrillator from Stryker (formerly known as Physio-Control). The BP 35 HD is specifically designed and developed to answer the market's needs for a more robust solution for extreme use in tougher emergency environments. The BP 35 HD is a lightweight product similar to the standard BP 35 version. Made for intensive use of medical devices, the heavy-duty version is thicker and stronger with an anodized finish of 50 micron which reduces the flex.
When you combine your BP 35 HD with a Technimount base, Stretcher system or wall mount, you can safely and quickly move your medical devices from one place to another, where you need them most at that time for your patient. This will also support your crew and protect them in case of an accident.
Product highlights
Certified for high impact resistance according to SAE J3043, with a medical device
Small and lightweight for minimum space usage
Fast and safe red release handle lock system
Unit locks when pushed (no action needed to lock) and releases instantaneously
Locking system resists to impacts of many times the G-Force
360 ̊ swivel base with a locking system (no free rotation)
50 microns anodization ensuring better scratch/corrosion resistance
Gives access to all pouches on the carry case, even on the back of the unit
Resists to biological fluids and sodium
Insensitive to rust
Made of high grade and high-density aluminum
1-year full warranty
Designed for
Stryker (formerly known as Physio-Control) LP-15 defibrillator in:
Stretchers
EMS Vehicles
Ambulances
Air Ambulances
Military Vehicles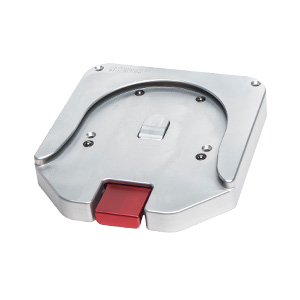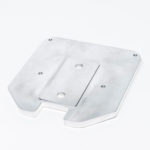 Having proper mount brackets to safely secure your medical devices is very important. This can avoid costly repairs or replacement of medical equipment and avoid possible injuries, which can lead to expensive lawsuits.