The OEM Base is designed to be installed on an ambulance wall to maintain a medical device in a vertical position. It is also a component of the Wall Mount Pro DualFlex system that allows multiple wall positioning options for a large variety of medical devices, in the patient compartment. The OEM Base is designed to secure medical devices as well as making them accessible at all times, and in multiple locations. Combined with the Wall Mount Pro DualFlex and the Bracket Pro Serie mounting systems, the OEM Base is the safest and best option for medical device wall mounting options when the ambulance layout has to change according to various emergency situations.
Product highlights
Certified for high impact resistance according to SAE J3043, with a medical device
Small and lightweight for minimum space usage
Self-locking mechanism with red button
Release mechanism standard at left side (optional at right)
Protected with an anodized coating of 15 microns
Made from high-grade aluminum and latex-free components
Biological-fluid, sodium-solution and rust-resistant
Matches with the Bracket Pro Serie mounts and the Wall Mount Pro DualFlex System
Locking mechanism successfully tested for over 20 000 movements without failure
1-year full warranty.
Designed for
Any brands of medical devices with back disc or wall mount adapter in:
Ambulances
EMS Vehicles
Helicopters
Aircrafts
Military vehicles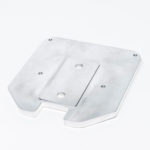 Having proper mount brackets to safely secure your medical devices is very important. This can avoid costly repairs or replacements of medical equipment and avoid possible injuries, which can lead to expensive lawsuits, delays and fleet management issues.