Techni-Shield DefenderTM
The Techni-Shield Defender is a protective screen for stretchers developed to help reduce the spread of contaminated droplets in the air.
The Techni-Shield Defender is a removable, transparent screen that acts as an additional barrier between the patient and emergency staff to reduce the risk of exposure to patients potentially contaminated with infectious respiratory diseases such as Coronavirus.
The Techni-Shield Defender is fabricated with PETG FDA-approved grade screen material for use in medical devices making it suitable for patient contact. PETG can resist rigorous ETO sterilization processes, making ideal to be used multiple times as a sterile barrier in medical applications. This impact resistant material is tougher than acrylic and is made with medical-grade resins that is ISO 10993 biocompatible.
Emergency responders can now better protect themselves when in contact with patients that might be infected with respiratory diseases such as COVID-19 during transport.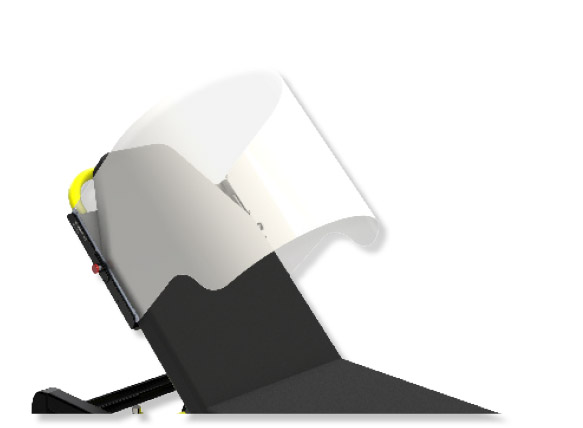 Features
Adjustable for patient height
Reusable transparent screen to monitor patient at all times during transport
Allows room around the patient for other medical equipment
Top and bottom openings to avoid additional oxygen consumption and carbon dioxide build-up
Made with FDA-approved grade and ISO 10993 biocompatible  PETG plastic – High resistance to sterilization processes
No seams that can potentially trap bacteria and other pathogens
Clip-on and clip-off design for quick installation and removal
Small frame size suitable for ambulance environments or confined spaces
Benefits
Enhances protection for EMS responders against exposure to patients potentially contaminated with respiratory diseases
Protective screen helping reduce the spread of contaminated droplets in the air
Instantly deploy or release the Tech-Shield Defender
Lightweight design for transport
Fast and easy to clean, disinfect and quickly put back into service
Shield protector parts available for replacement
*Our contribution against Coronavirus
The development of the Techni-Shield Defender is our contribution to helping emergency responders in the fight against Coronavirus.
The safety of healthcare professionals and first responders is at the heart of Technimount's mission. For this reason, a percentage of the proceeds of this product will be donated to a non-profit organization that looks after the wellness of the EMS community.
The Techni-Shield Defender was developed in collaboration with HTMC Medical, a partner company of Technimount System.
Techni-Shield Defender is a Trademark property of HTMC Medical.