IV Stand – 115
Universal IV Pole for Pumps, Pump Carrier and Fluid Bags
The IV Stand – 115 is designed to mount medical volumetric or syringe pumps, pump carrier and fluid bags for use in clinic and hospital environments. Its highly stable, 6-leg steel weighted-base and aluminum pole structure safely supports multiple medical devices.
This IV Stand is ideal for a variety of care unit settings allowing medical staff to easily transfer the pole and patients to walk around with it. This versatile IV Stand is intended for medium-duty use.
It is compatible with Technimount Medical Pump Carrier.
Product highlights
6-leg carbon steel base with medical-grade white powder-coated paint for optimum durability
Low noise 3" Swivel Ball-Bearing Caster Wheels made of high-quality solid rubber and impact-resistant nylon for smooth gliding
Pole height from 68″ to 86″ fully extended
Stainless steel star-type hook top for increased durability and easy cleaning
Sturdy and stable structure to safely hold multiple IV bags, pumps and pump carriers
Low-center-of-gravity and balanced weight design for enhanced stability and easy movement
Optimized design for reduced packaging and shipping cost
Reinforced middle joint structure with deep sleeve stabilizer and four screws asymmetrically positioned for solidity and longer product lifetime
Slim design collar for smooth adjustment of top pole and elimination of possible interference with tubing
Made from high-density aluminum and steel with silver-anodized finish and medical-grade white powder-coated paint
Resistant to biological fluids and Quaternary-type disinfectants for easy cleaning
Compatible with Technimount Medical Pump Carrier
Key Features
38" from ground handle for easy reach and patient movement
Integrated utility tray for patient belongings
Sanitizer holder
Standard drainage bag hook
ACCESSORIES
Customize your IV Stand with the following accessories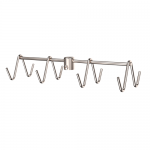 Stainless steel 8 inline-type hook top (to replace the standard star-type hook top)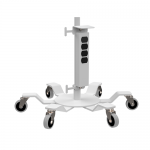 Medical-grade 4-outlet power strip with cable management and protective cap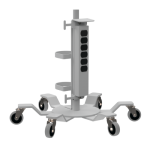 Medical-grade 6-outlet power strip with cable management and protective cap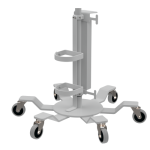 Oxygen tank holder for D or E size cylinders.