IV STAND – 120
Universal IV Dual Pole for Pumps, Pump Carrier and Fluid Bags
The intensive use Dual IV Stand – 120 is designed to mount pumps and fluid bags for use in clinical and hospital environments.
The Dual IV Stand-120 features two robust poles to securely mount multiple devices. Its six-legged steel base with a low center of gravity provide high stability. Its silent swivel casters allow for easier intra-hospital mobility.
It is compatible with Technimount Medical Pump Carrier.
Product Highlights
Medium-duty IV stand designed to mount pumps and IV bags in hospital and clinical environments
Four IV bag hooks per pole
Pole height from 73-inch to 91-inch
Aluminum collar for tightening top pole
Steel base with 6 legs and 3-inch swivel casters made of urethane and impact-resistant nylon
Stainless steel hooks
Low-center of gravity design provides increased stability
Optimized design for reduced packaging and shipping cost
Made from high-density aluminum and steel with silver-anodized finish and white powder-coated paint resistant to biological fluids and a broad range of disinfectant
Key Features
Customizable with optional 8-inline-hook top,  medical-grade 6-outlet power bar and oxygen cylinder holder
Integrated ergonomic handle with utility tray and tubing management
Standard drainage bag hook
Sanitizer holder
ACCESSORIES
Customize your IV Stand with the following accessories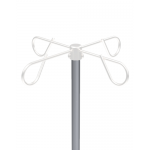 Optional 10'' higher telescopic top pole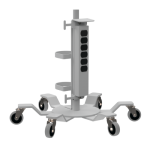 Medical-grade 6-outlet power strip with cable management and protective cap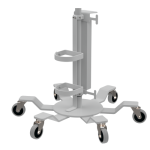 Oxygen tank holder for D or E size cylinders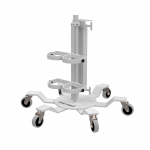 Dual oxygen tank holder for D or E size cylinders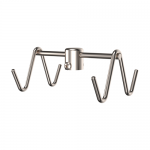 ​Stainless steel 4-inline-type hook tops (to replace the standard star-type hook tops)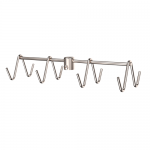 Stainless steel 8-inline-type hook tops (to replace the standard star-type hook tops)