2 December, 2021
Technimount's Neonatal Stretcher System Winner of the EMS World Innovation Award 2021
Quebec, QC, (December 2, 2021) – Technimount EMS ("Technimount"), an affiliated company of Technimount System and leading provider of mounting solutions for medical devices, announces today its Neonatal Stretcher System wins the 2021 EMS World Innovation Awards.
The Neonatal Stretcher System revolutionizes critical care transport by offering unparalleled safety and autonomy to neonatal transport teams. This innovative system consists of a support stretcher structure and adapted mounts allowing the attachment of multiple medical devices. Unlike some options available on the market that necessitate the permanent embedding of specific medical devices, the Neonatal Stretcher System enables neonatal critical care providers to adapt medical device configuration on the stretcher according to their own organizational protocols while using existing equipment. This flexibility provides a seamless transition between teams during patient transfers as well as efficiencies in grouped medical device purchasing and training.
The EMS World Innovation Awards is the highest recognition in the Emergency Medical Service's industry. The award recognizes the industry's most pioneering products of the year based on their innovative features and applicability. Technimount was nominated five years in a row and is now a winner for the third time, taking the leading position as the most innovative provider of safe and flexible mounting solutions in the EMS industry.
"We are honored to receive this prestigious award in 2021." said Carl Bouchard, Founder and CEO of Technimount System. "This has been a very difficult year for many of our industry peers and this recognition proves that Technimount's highest standards and innovation are providing the right solutions to the industry."
The Neonatal Stretcher Solution was developed in collaboration with CISSS des Laurentides, healthcare institution in Quebec, Canada, and has been deployed successfully in several neonatal healthcare units in North America since its launch early this year.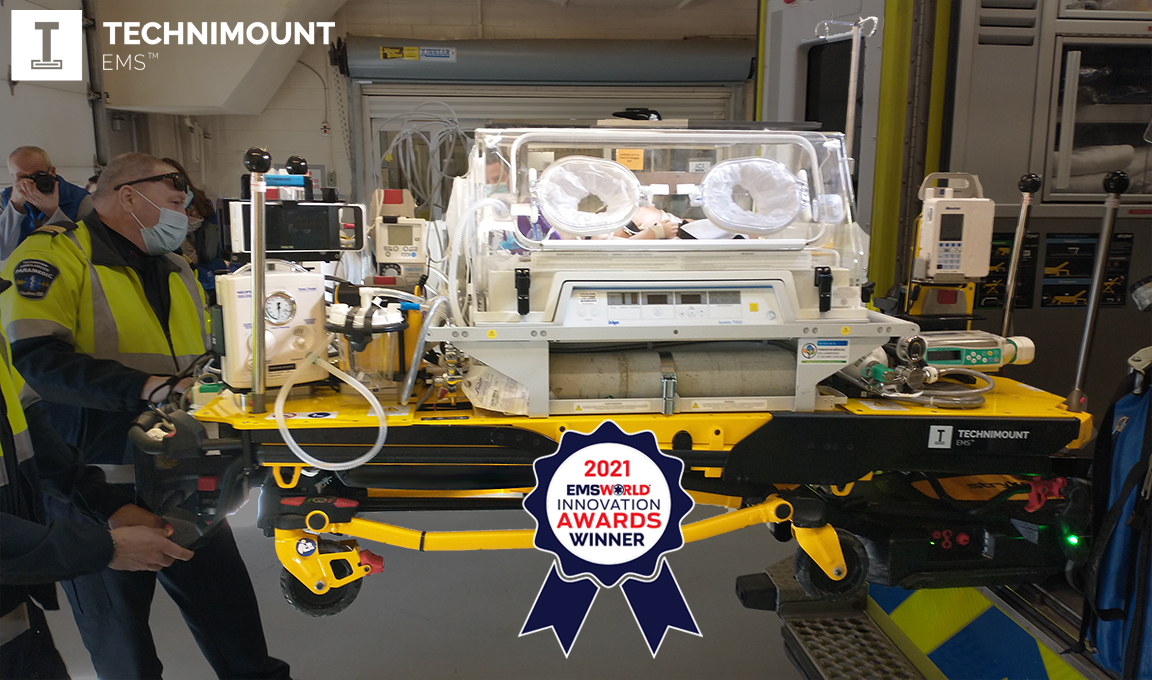 ###
About Technimount EMS
Technimount EMS offers a wide range of mounting systems for portable medical devices, addressing the safety needs of patients and staff during ground or air emergency and critical care transport, establishing itself as a standard in the Emergency Medical Services industry.