Techni-Shield DefenderTM
Le Techni-Shield Defender est un écran protecteur pour civières conçu afin d'aider à réduire la propagation de gouttelettes contaminées dans l'air.
Il s'agit d'un écran transparent amovible constituant une barrière supplémentaire entre le patient et les intervenants d'urgence. Il réduit le risque d'exposition aux patients potentiellement contaminés par des maladies respiratoires infectieuses comme le coronavirus.
Le Techni-Shield Defender est fabriqué avec un matériau d'écran fait de PETG approuvé par la FDA pour utilisation dans des dispositifs médicaux. Il est ainsi adapté au contact avec les patients. Le PETG est capable de résister aux vigoureux processus de stérilisation à l'oxyde d'éthylène, ce qui le rend idéal pour être utilisé plusieurs fois comme barrière stérile à des fins médicales. Résistant aux chocs et plus robuste que l'acrylique, ce matériau est fait de résines de qualité médicale conformes aux normes de biocompatibilité ISO 10993.
Les intervenants d'urgence peuvent désormais mieux se protéger lorsqu'ils sont en contact avec des patients pouvant être atteints de maladies respiratoires comme la COVID-19 lors du transport vers l'hôpital.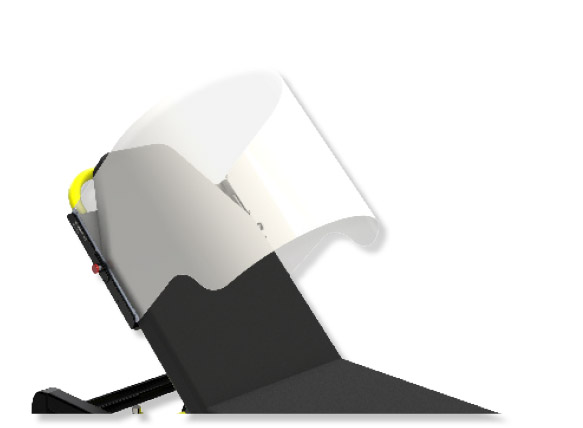 Caractéristiques
Réglable en fonction de la taille du patient
Écran transparent réutilisable pour surveiller le patient à tout moment durant le transport
Laisse de la place autour du patient pour d'autres équipements médicaux
Ouvertures en haut et en bas pour éviter la consommation supplémentaire d'oxygène et l'accumulation de dioxyde de carbone
Fabriqué avec du plastique PETG approuvé par la FDA, conforme aux normes de biocompatibilité ISO 10993 et doté d'une grande résistance aux processus de stérilisation
Pas de jointures pouvant potentiellement favoriser l'accumulation de bactéries et d'autres agents pathogènes
Facile à installer et enlever grâce au système de clipsage
Cadre de petite taille adapté aux ambulances et aux espaces restreints
Avantages
Protège davantage le personnel SMU lors des interventions auprès des patients potentiellement atteints de maladies respiratoires
L'écran protecteur aide à réduire la propagation de gouttelettes contaminées dans l'air
Facile à installer et à enlever
Léger et facile à transporter
Rapide et facile à nettoyer, désinfecter et remettre en place
Les pièces de rechange du Tech-Shield Defender sont disponible
*Notre contribution face au coronavirus
La conception du Techni-Shield Defender est notre contribution pour aider les intervenants d'urgence à lutter contre le coronavirus.
La sécurité des professionnels de la santé et des premiers intervenants est au cœur de la mission de Technimount. Pour cette raison, un pourcentage des recettes de vente de ce produit sera remis à une organisation sans but lucratif qui veille au bien-être des intervenants SMU.
The Techni-Shield Defender was developed in collaboration with HTMC Medical, a partner company of Technimount System.
Techni-Shiel Defender is a Trademark property of HTMC Medical.