4 January, 2023
Meet Joey Larose, Director of Sales of the Technimount Medical Division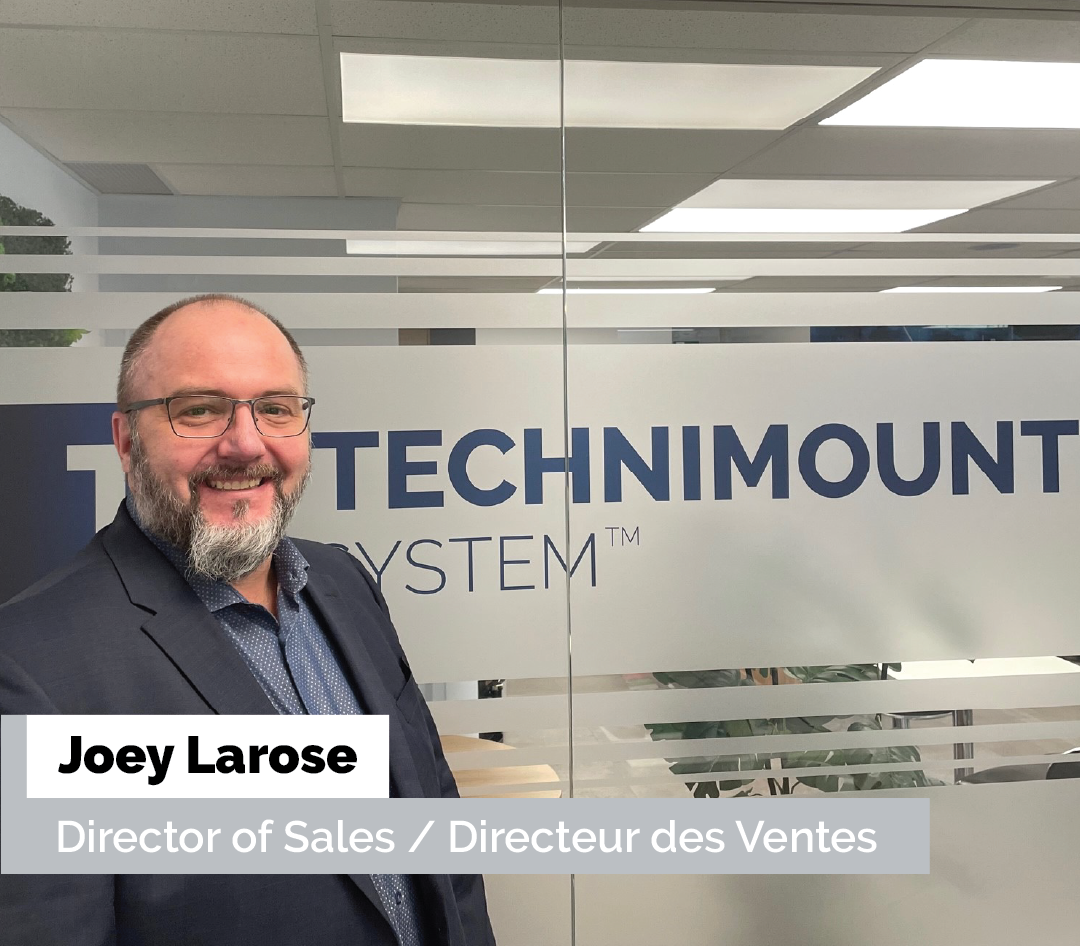 Joey Larose is one of the key members of Technimount Medical. This new division is dedicated to serving the Healthcare community worldwide by offering innovative mobility and mounting systems for medical equipment that improve the efficiency of patient care continuum in the clinical and hospital environments and within the telemedicine practice.
As a Director of Sales for this division, Joey will be working closely with hospitals, Group Purchasing Organizations (GPO's) and Original Equipment Manufacturers (OEM's) to have a better understanding of their specific needs and offer them the highest quality solutions. Joey started his journey in the medical field as a critical care and emergency respiratory therapist which has proved to be a tremendous asset throughout his subsequent business career. As a veteran in the industry, he has over 25 years of combined experience, including field practice, sales and management in the medical device industry. With a deep understanding of the clinical, technical and healthcare providers' realities, he has always strived to offer customers with value that extends beyond the product alone.
"I am thrilled to have joined the talented and dynamic team at the Technimount Medical division poised to introduce meaningful innovations that will solve the inefficiencies in medical device and patient mobility, faced by healthcare providers as well as OEM customers. With healthcare practices and technology changing constantly, Technimount Medical is committed to providing modular and unique medical device mounting systems which will significantly increase flexibility and respond to these dynamic needs." Said Joey Larose.
Technimount Medical is an affiliated company of Technimount System, a recognized industry leader of flexible mounting systems and recipient of many innovation awards in the Emergency Medical Services sector. True to the values inherited from its parent company, Technimount Medical integrates expert engineering in the development of innovative solutions, which enables caregivers to manage medical devices more efficiently. 
"I couldn't be more excited about the upcoming months as we launch our hospital dedicated product lines. Our mounting solutions are compatible to multiple medical devices, relevant to telemedicine as well as to telemetry and they will be key to driving long-term value for our customers and OEM partners. We are delighted to have Joey as part of the team. His passion, ability and strategic thinking will be a valued addition to the Technimount Medical sales team! We look forward to presenting our innovations in the upcoming months." Said Carl Bouchard, Founder and President of Technimount System.