22 July, 2022
EMS Safety Roundtable Powered By Technimount
Improving the physical safety of EMS providers requires more than having the right medical equipment, you need a comprehensive approach that leaves nothing to chance. Technimount EMS understands this and works closely with medical providers to offer them the highest quality products to ensure their safety.
Technimount EMS is pleased to invite you to the EMS Academy's Safety Round Table, which will take place on August 3rd at 2PM ET. Here you will discover leadership development methods used and recommended by industry professionals, in a live virtual meeting. We are delighted to have the participation of two leading emergency medicine specialists join us to offer their experience on a number of emergency medical services topics: David Daniels, ID Safety Solutions and Justin Reed, CyFair FD. as well as our appreciated speakers: Robbie MacCue and Lisa Giruzzi, co-founders of the EMS Leadership Academy and co-hosts of the EMS Leadership Summit, they empower other leaders to create bold visions that redefine the future of their organization and Emergency Services worldwide. Technimount is proud to partner-up with these four key professionals on this fantastic event!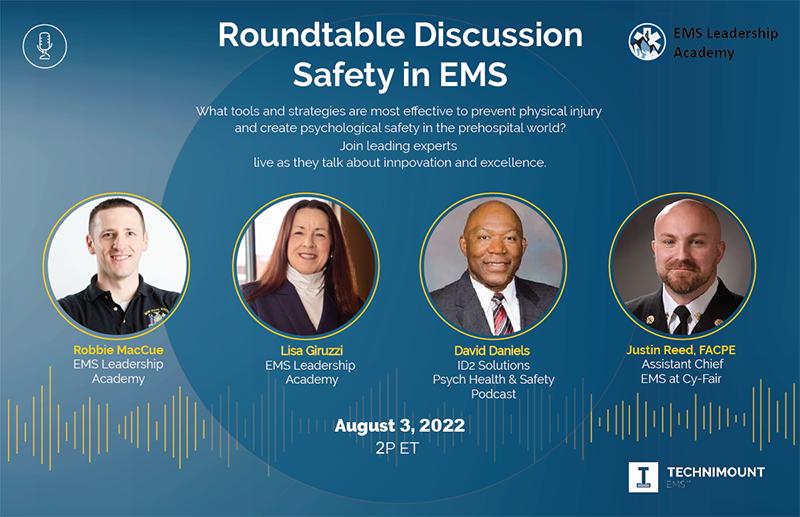 Register for the Safety Live Roundtable Discussion
About David
Certified as a Safety Director, Emergency Preparedness Specialist, and Workplace Violence Specialist, Dr. David Daniels participated in numerous presentations and assisted many organizations with safety training and management, aiding businesses reducing risk in work environments. Retired three-time fire chief, Daniels became in 2021 the first living African American to be inducted into the National Fire Heritage Center's Hall of Legends, Legacies, and Leaders.
About Justin
Currently serving as the Cy-Fair Texas Fire Department's assistant chief-EMS, Justin Reed is in charge of all operations including 140 full-time employees and 13 ambulances, which answer to over 40,000 calls annually and serve a population of 640,000 people in total. Chief Reed has over 15 years of progressively responsible experience delivering the highest quality of leadership, patient care, and customer service. He was recently recognized by the American Ambulance Association Top 40 Under 40 and is a Fellow of the American College of Paramedic Executives, 2020. Justin has volunteered with numerous organizations including a non-profit organization, MyLifeSpeaks, in Haiti providing pre-hospital care, education, and equipment.