The Converter Pro
For Bracket Pro Serie Mounts
Technimount's Converter Pro is an option designed for Technimount's surface standard and extension bases.  This converter is a fast and easy solution to change your surface base mount into a workspace in seconds.  It's the perfect option for your standard or extension base since it can adapt to any surface material, according to your needs (dimensions, material, etc).  This gives your flexibility to have additional workspace when you are not using your medical devices without having to remove your surface base.  It helps to really master your EMS environment and adapt it to your working preferences.
The Convertor Pro is compatible with Technimount Standard and Extended Bases.
Product highlights
Quick installation (less than 5 minutes)
Four (4) points of installations for your surface
Flexibility of workspace dimensions and material.
Remains locked which protects the crew and patients in case of accident.
Fits to any standard or extended surface base.
Disc is anodized for better durability and scratch protection.
Lightweight material high grade aluminum.
No modification of the surface base needed if you already have one.
Maintains the impact resistance SAE 3043 standards.
Keeps the integrity of your surface base
Resists to biological fluids.
Does not rust or react to intensive use.
1-year full warranty.
Designed for
Ambulances
EMS Vehicles
Helicopters
Aircraft
Military Vehicles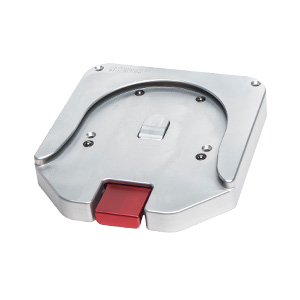 Having proper mount brackets to safely secure your medical devices is very important. This can avoid costly repairs or replacements of medical equipment and avoid possible injuries, which can lead to expensive lawsuits.